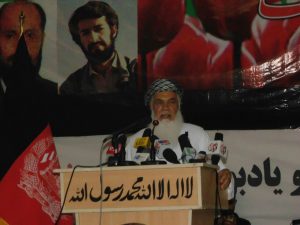 Speaking about Donald Trump's new strategy on Afghanistan, Afghan warlord Ismail Khan said: former American president Barak Obama, who was wiser that Trump, did not do anything for Afghanistan and Afghans and Trump's new strategy is absurd as well.
According to DID news agency report, the Jihadi leader Ismail Khan, who was speaking at the ceremony commemorating Ahmad Shah Massoud, the national Hero, said: "New Us strategy for Afghanistan is 'futile' as Barak Obama did not do anything for Afghanistan and Afghan people."
"We ask Allah for security and assistance, so this territory moves toward self-sufficiency and freedom. Trump's strategy will never bring peace and prosperity for Afghanistan," he added.
"The only achievement of Barak Obama, former US president was that many Afghan youths diagnosed with drug-related diseases and …" Mr. Ismail Khan addressed to American leaders.
The jihadi leader in west of the country called on foreign troops to abandon Afghanistan as soon as possible, so that Afghan can easily manage their lives.