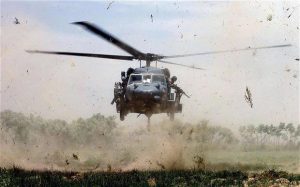 A US service member has died as a result of injuries sustained during a helicopter crash in Logar province Friday evening. NATO mission said in statement.
According to DID news agency report, a US service member was died of wounds and six other crew members were injured.
While Taliban group claimed they took down the aircraft, Resolute Support, however, said that the crash was not the result of enemy action.
"We are deeply saddened by the loss of our comrade," John Nicholson, RS commander said. "On behalf of all of Resolute Support, our heartfelt sympathies go out to the families and friends of our fallen comrade and those injured in this unfortunate event."