Latest News
World
Venezuela: Maduro claims huge poll victory as opposition cries fraud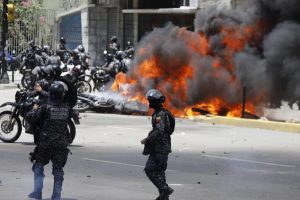 President Nicolás Maduro has thanked "the brave people of Venezuela" for voting in a controversial election for a new Constituent Assembly that will have the power to rewrite his country's constitution.
The election will allow Maduro to replace Venezuela's current legislative body — the National Assembly — with the new assembly, made up 545 members, all nominated by his administration.
The polls opened at 6 a.m. ET Sunday, with nearly 380,000 troops guarding voting stations, according to a government release. Quoted from foreign media.
Sunday's election was marred by violence, with widespread protests and at least 10 people were killed.
President Nicolás Maduro hailed the poll as a "vote for the revolution".
On Sunday the US said it was considering fresh sanctions targeting the oil industry there. It has already imposed sanctions on 13 members of Mr. Maduro's government.
The US State Department said it would take swift action against what it called the "architects of authoritarianism".
On July 16, more than 7 million Venezuelans cast ballots in an unofficial vote against Maduro's Constituent Assembly. Maduro ignored the results of the vote, which was organized by opposition leaders.