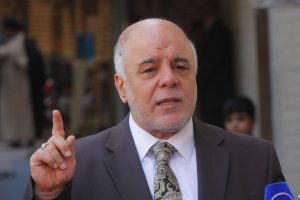 Iraqi prime minister says we only accept a full cancellation of the Kurdish referendum vote and its results.
According to AP, the Iraqi Prime Minister vowed during a visit to Iran on Thursday that the central government only accept a total termination of the referendum vote, dismissing a proposal by the autonomous Iraqi Kurdish region to freeze the referendum results seeking negotiations with Baghdad.
Haider al-Abadi says the central government "will accept only the cancelling of the referendum and following the constitution," according to a written statement released by his office.
Iraqi Kurdish leaders on Wednesday offered to freeze the referendum results in order to facilitate talks with Baghdad.