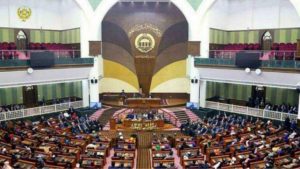 A number of MPs express concerns over the Afghan security, saying America does not fulfill its commitments given to Afghanistan in its new strategy.
According to DID news agency report, Abdul Rauf Ibrahimi, the speaker of Wolesi Jirga says, the security status has not improved with the new US strategy and there are wars ongoing in different parts of Afghanistan.
Mr. Ibrahimi called on the government to work on a new strategy to overcome the insecurity and send it to the parliament for approval.
Abdul Qayyum Sajjadi, an MP, called on the defense and security institutions to change its status from defensive to offensive to fight the insurgents.
According to him, security agencies of the country should work on a new strategy to counter terrorism.
This comes as security situations have been deteriorated and the war is ongoing in different parts of the country.
The government had previously said, it is working on a four year plan to provide the security.
Similarly, a number of politicians had described the US strategy on Afghanistan as a continuation of war and tensions in the country.
The House of Representatives is calling on the government to work on a new strategy to fight terrorism while the US had announced a new strategy on Afghanistan and south Asia.