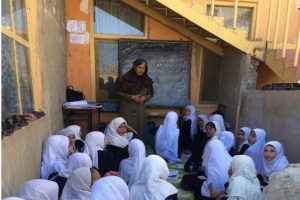 The World Bank had surveyed thirty two schools in Kabul based on Saber service delivery methodology already tested in the Africa region, and shared their findings on how is the quality of education at Afghan schools.
Based on the survey, Out of 32 schools visited in Kabul city, 15 had triple and 16 had double shifts on a lesson, indicating less time for students to learn, compared to the African countries such as Kenya and Mozambique. On the other hand, the test showed that teachers who were teaching grades 3-6 lack the skills to teach effectively.
According to the report, teachers less interact with students, based on the activities and materials being used by teacher and students over the course of a single class. The total percentage of teachers not being involved in academic activities, which is very similar to countries in Latin America and the Caribbean, such as Brazil and Honduras.
meanwhile, according to the report, teacher absentee is not as widespread as in other comparable countries, saying out of 324 teachers who were randomly selected, 13 teachers were absent from school on the day of visits. But more observations needed to confirm the trend.
In general, there is little evidence of high-quality instruction or learning happening in the classrooms and neither were teachers being assessed on their performance nor the quality of their teaching.