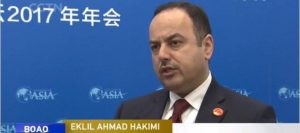 Finance Minister Eklil Hakimi announced at the One Belt, One Road (OBOR) Forum for Asia Annual Conference 2017 this week in China that Afghanistan's trade and transit plans were aligned according to OBOR's initiative.
Addressing the Forum, Hakimi said Afghanistan is optimistic about the OBOR project and added that roads, railways, energy, transportation and people to people connectivity play a vital role in boosting trade and transit.
Proposed by Chinese President Xi Jinping in October 2013, the OBOR initiative is a regional economic cooperation framework which focuses on connectivity between China and the rest of Eurasia.
The project consists of two main components: the land-based "Silk Road Economic Belt" and the ocean-based "Maritime Silk Road." Quoted from (Wadsam).
Owed to its strategic location at the crossroads of Central, South, and Southwest Asia, Afghanistan is poised to benefit from the project.
For this initiative, China has pledged investments totaling more than USD $100 billion to the countries of Greater Central Asia to be sourced, in part, from a USD $40 billion Silk Road Fund and the new Asian Infrastructure Investment Bank (AIIB).