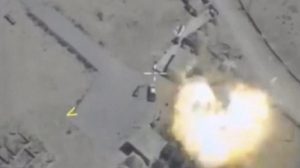 Russia said on Wednesday it had critically injured the leader of the Tahrir al-Sham militant group in Syria after launching an air strike on his position which had also killed 12 of his field commanders.
The Russian Defense Ministry said in a statement it had targeted Abu Mohamad al-Golani in an intelligence-led special operation while he was meeting his field commanders.
Golani and his men had been bombed by two Russian planes on Oct. 3, Defense Ministry spokesman Igor Konashenkov said in a statement, saying the militant leader who was the head of the Nusra Front before it merged with other groups to form Tahrir al-Sham, had been badly hurt. Quoted from Euronews.
"As a result of the strike, the Nusra Front leader, Abu Mohamad al-Golani, sustained numerous shrapnel wounds and, having lost an arm, is in a critical condition, according to information from several independent sources," Konashenkov said.
He said around 50 of Golani's bodyguards and 12 Nusra Front field commanders had been killed in the same air strike, including a close aide to Golani and the head of the militant group's security service.
The ministry said the air strike was part of an ongoing operation to destroy militants who had launched an offensive on Sept. 18 which had surrounded 29 Russian military policemen who then had to be broken out in an operation backed by air power.