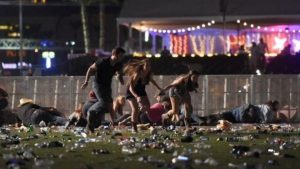 As a result of shootings in Las Vegas, America, at least 50 people were killed and more than 200 others wounded, police confirmed.
A gunman opened fire late Sunday during a country music concert on the Las Vegas Strip, killing at least 50 and injuring more than 200, foreign media reported.
The gunman, who fired down on the concert from a room inside the Mandalay Bay casino, was killed by police.
Security forces at Las Vegas besieged the hotel and killed the gunman in a room on the 32nd floor.
Authorities told the public to keep an eye out for a Hyundai with a Nevada plate: 114B40 and a Chrysler with a Nevada plate 19D401.
It should be noted that Las Vegas concert shooting is the deadliest in modern US history.