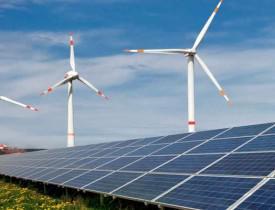 Tower of generating electricity from wind power, which is installed for the first time in the country, is part of a 2 megawatts project from clean sources.
The project, which generates a total of 2 megawatts electricity, includes the production of electricity from sunlight and the wind, of which, 1700 kwts or 1.7 mwts are produced from sunlight with 5320 solar boards, and the remained 300 kwts or 0.3 mwts is produced by three towers of generating electricity from wind power.
According to DID news agency report, a media specialist at the ministry of energy and water Asif Ghafouri said: "these solar boards of the project were installed in the 40 acres of land in the industrial town of Herat province, and produces 400 kwts electricity per hour and are connected to Herat's electricity network."
According to him, last month, Ali Ahmad Osmani minister of energy and water visited the development process of the project and opened 400 kwts of the generated electricity from the solar section.
"The project is funded by Japan and is a good example of creating a park generating energy from clean sources that it can be used effectively to expand the production of renewable electricity from the experience of the project," Mr. Ghafourin added.
The total cost of the project is about $ 3.5 million, and its contract was signed by the ministry of Energy and Water in April 2016 and ended by the end of this month.
The project consists three wind towers, each generate 100 kwt of electricity.