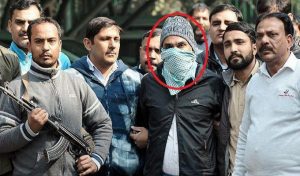 Police in New Delhi vowed they arrested a terrorist known as India's Bin Laden.
Abdul Subhan Qureshi allegedly planned the 2008 bombing in Gujarat that killed 56 people and is the co-founder of a terrorist group that planned fatal bombings in Mumbai in 2006, Delhi in 2010, and Bangalore in 2014. He was captured by police in Delhi on Monday after a brief exchange of gunfire. Police said they found guns and fake documents on the suspect.
Qureshi was asked to go to Riyadh to arrange funds for reviving Indian Mujahideen in India. In Riyadh, he worked as a salesman in stores and collaborated with SIMI and IM sympathizers. Qureshi returned to India from Saudi Arabia in June 2017. Deputy Commissioner of Police, Special Cell, Mr Khushwah told NDTV, "We got information that Qureshi was coming to meet his old friends and this time we managed to catch him."
Qureshi was one of the most wanted terrorists in the country, having disappeared underground over the past several years. Police say he had been hiding in Nepal and recently returned to India to revive the activities of his terrorist group, the Indian Mujahideen. He was allegedly based in Saudi Arabia from 2013 until 2015.
Police say Qureshi is an expert at changing his appearance, building bombs and hiding his online activities.
Prior to becoming a terrorist, he was employed in one of India's top IT companies as a software engineer.