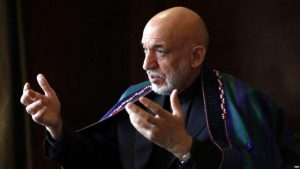 Former Afghan president Hamid Karzai says, Daesh terror group is gaining power and expanding in Afghanistan.
Hamid Karzai in an interview with Bild newspaper said: US presence in Afghanistan has angered the people, and that the White-House needs to cooperate with Moscow, Beijing, and Tehran.
"America along with Pakistan is the biggest obstacle to peace among Afghans," Mr Karzai added.
Meanwhile, Hamid Karzai has said that an international coalition should be formed to fight terrorism: "it is necessary for the United States to cooperate with great powers like Russia, China, and Iran to become successful; because the US presence was not successful and only fueled extremism."
The former president of Afghanistan, who was in power from 2001 to 2014, accused Washington of pursuing plans for state-building in the country in the past few years, which only created a parallel system in which US forces have violated the laws in the country.
Hamid Karzai had previously accused America of supporting and equipping ISIL fighters in Afghanistan.