President M. Ashraf Ghani, in the Commander in-Chief meeting, inked in principle the Security Plan of capital Kabul, as well as reviewing the military operation plan, the Presidential Press office said in a statement Sunday.
---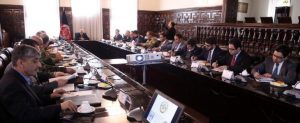 He stressed for hard work on the security plan's details for its effective implementation, said the statement.
At the meeting, the progress and achievements of the armed forces in different parts of the country were also presented to the presidency.
Although the plan has been approved in principle, it still needs work in the details and peripheral issues.
According to ARG palace, senior security officials have been instructed to work on the details of the plan and present the results to the public.
According to the security officials, the Kabul security plan includes coordination, coherence, solidarity, in intelligence units, strengthening the security and defense forces, effective replacement of police forces and a comprehensive reforms in the sector.
This comes as Kabul had witnessed bloodiest assaults in the past weeks and the people still do not believe in security.