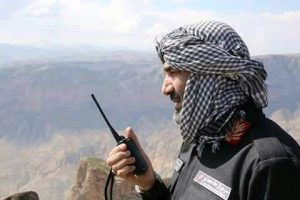 Launching clearing operations named "Inkishaf-e-Alburzha" under the command of Atta M. Noor, Balkh governor, in vulnerable areas of Alburz Mountains, Local officials of Balkh province reported.
According to (DID) news agency report, clean-up operations under the name of "Inkishaf-e-Alburzha" has been started in vulnerable areas of "Chamtal" and "Koh-e-Alburz" districts, commanded directly by Atta Muhammad Noor, Balkh governor and security forces. Munir Farhad, Balkh governor's spokesman told (DID) news agency.
"As some reports was received about the accumulation and activity of anti-government armed oppositions in "Qarawol, Laqman and Cheshma-Gazar" villages and these operations were launched to destroy and eliminate Taliban." He added.
"Taliban members had gathered in mentioned areas from Sar-e-Pul and Jawzjan provinces and some support forces from Faryab province." Mr. Farhad underlined.
"The operations are under way and it is expected that soon to bring fruitful results for better security in Balkh province," Balkh governor's spokesman said.
However. Last week nearly 200 members of Taliban commanded by "Khan Muhammad Chrik," in a rare act isolated from Taliban and joined the government; they were residents of 36 villages in Koh-e-Alburz.
Alburz is located in southwest of Mazar-e-Sharif city; it was the place, where Taliban recruits soldiers and gather together during past ten years.