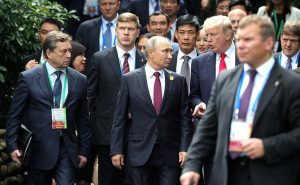 The Russian president Vladimir Putin and resident Trump to issue a joint statement on Syria following a conversation on the sidelines of the APEC summit.
Vladimir Putin wrote on his twitter, the statement has been specially prepared for Danang meeting.
The document had been drafted by the two countries' experts and coordinated by the Russian Foreign Minister Sergei Lavrov and US Secretary of State Rex Tillerson.