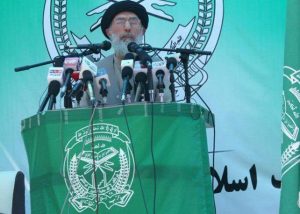 Today morning, Gulbuddin Hekmatyar leader of Hezb-e Islami went to Herat province and lectured at a group of his supporters.
Mr. Hekmatyar called on neighboring countries to help Afghanistan, reaching a stable peace, pointing their roles in providing peace in the country.
Mr. Hekmatyar also divided the Taliban into two "bad and good" groups and asked the national unity government to accept the proper conditions of "good Taliban" in peace negotiations.
"If the war in Afghanistan not controlled, it would influence the neighboring countries too," he said.
Although the leader of Hezb-e Islami talked more about peace and security, he also attacked his political rivals as well.
Reports suggest that Hekmatyar was not warmly welcomed and the number of his fans were few too.
Mr. Hekmatyar traveled to Herat province while being accused of sectarian and ethnic divisions in the country.