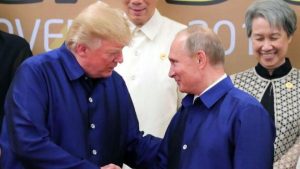 The Russian president Vladimir Putin and his US counterpart Donald Trump agreed to defeat Daesh (ISIL).
Putin and Trump agreed on the issue on the sidelines of the Asia Pacific economic cooperation (APEC) summit in Vietnam.
"There is no military solution to the conflict in Syria" Kremlin vowed in a statement after the meeting of the two leaders.
"The Presidents agreed to maintain the existing military communication channels to ensure the security of US and Russian armed forces, as well as to prevent dangerous incidents involving the forces of allies fighting the Daesh terror group," the statement said.
Vladimir Putin considered charges of interfering in US election very insulting, saying this is not good for our country, BBC reported.
Trump was praising Putin during the election campaign. It was expected the relations between the two states will get closer after the new administration get the power at the White-House, but tensions remained ongoing.
"He says he didn't meddle. I asked him again. You can only ask so many times," Trump told reporters.
Meanwhile, Vladimir Putin read Russia's interference in US election as "absurd claims" and "fantasies," saying what is said about Russia's intervention in the US election is as result of the conflict in US domestic politics.
The charges of possible Russia's intervention at the US election are denied in favor of Trump, while Robert Mueller has introduced a number of faces to the attorney office who are close Trump.