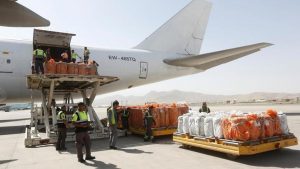 The second air cargo flight from Kabul to Mumbai inaugurated Wednesday.
Afghanistan's second vice-president, ministers and Indian officials have attended the inauguration ceremony held at Hamid Karzai international airport.
Vice president Sarwar Danish said, it will improve Afghanistan's trade and praised India as the most significant trade partner of Afghanistan.
According to Danish, the new cargo air route between Afghanistan and India is part of the government's macro policy which stresses on boosting of Afghanistan's exports.
The first cargo plane form Kabul-Mumbai route carried 40 tons of fresh fruits.
Indian Ambassador to Afghanistan Manpreet Vohra also congratulated the Afghans on opening of Kabul-Mumbai air cargo route.
Afghanistan has so far exported 1,600 tonnes of fruits, worth more than $20 million, via air corridor to India.