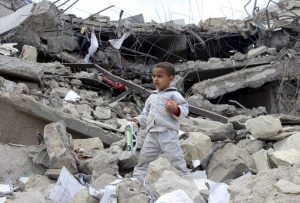 The United Nations Sunday urged all parties involved in Yemen war to end the violence.
"I am deeply concerned about the situation in Sanaa," Jamie McGoldrick, the U.N. Yemen Resident and Humanitarian Coordinator said.
"Initial reports indicate dozens of civilians killed and hundreds more wounded in the ongoing fighting. Many civilians are trapped in their homes," according to McGoldrick.
According to Anadolu news agency, Mr. McGoldrick urged all parties to "comply with the international humanitarian law, ensure the protection of civilians".
Meanwhile, the International Committee of the Red Cross (ICRC) repeated on Sunday its call to end violence.
"Thousands stuck in their homes, with little food or water, too scared to go out for fear of getting shot. Pregnant women can't get to the hospital. Situation dire. We repeat: Civilians are not part of the fight," the ICRC underlined.
At least 36 people have been killed in two days of rebel infighting in the Yemeni capital Sanaa, a medical source reported on Sunday.
The conflict escalated when Saudi Arabia and its Arab allies launched a massive air campaign in 2015 aimed at reversing Houthi military gains and strengthening Yemen's embattled government.
According to the ICRC, more than 3 million Yemenis have been forced to flee their homes since the conflict began, while more than 20 million are in need of humanitarian assistance.