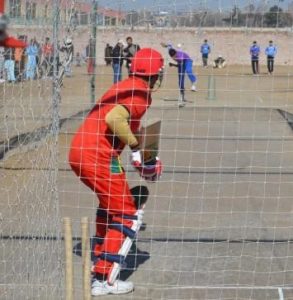 Taliban militants have banned all sports, including cricket, in southern Ghazni province, residents complained on Saturday.
But the insurgent movement, which barred girls from going to school during its rule, said it had banned cricket in rural areas only on the basis of public complaints.
Sahib Khan, a resident of the volatile Andar district, said that the rebels had slapped restrictions on all types of games.
"Some days ago, the Taliban came and took away all our sports gear while we were playing cricket. They warned us, no one can play the game here in the future," he said. Quoted from (Pajhwok).
Now youngsters cannot play cricket, football, volleyball or other sports in areas under Taliban control, according to Khan, who voiced concern at the curbs.
Abdur Rahman, a resident of the Sulaimanzi area of Deh Yak district, said volleyball was a popular sport in their village but the Taliban recently prohibited them from playing it.
"We had a strong volleyball squad and competed with other teams, but the militants no longer allow any sporting activity in our neighborhood," he lamented.
According to Rahman, the militant group has imposed a ban on all games in Deh Yak, Giro, Zana Khan, Rashidan, Ajiristan, Gilan, Qarabagh and Andar districts and some other areas of the province.
Mohammadullah, who hails from Ghazni City, said youths' interest in playing cricket had increased. "Parents of youths had complained to Taliban to ban the game so their children attend schools regularly."
But Afghanistan Cricket Board (ACB) head for Ghazni Ezatullah Mominyar said they had teams in Andar, Gilan, Qarabagh, Deh Yak, Zana Khan, Maqur, Aab Band districts, as well as other areas of the province.
"The Taliban may have banned the game in some areas under their control, but no one has complained to us so far," he said, adding the board planned to build a stadium in Ghazni in near future.
Fahim Amarkhel, the provincial police spokesman, said all types of games were played in areas under government control. Police would try to resolve the problem, he promised.
On the other hand, the Taliban denied banning sports in Ghazni. The group's spokesman, Zabihullah Mujahid, said they had banned cricket in some villages after receiving complaints from residents.
"People complained to us that youths play cricket in the middle of the village. Subsequently, we told them to play the game in an open area outside the village," he said.