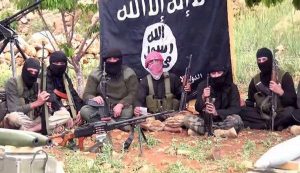 Daesh (ISIS) commander was killed in Afghanistan's Kunar province, Pentagon announced Friday.
U.S. forces killed Abu Saeed in a raid Wedsnay on the terror group's headquarters in Kunar province in eastern Afghanistan, Dana White, the chief Pentagon spokeswoman said in a statement.
"A number of other ISIS members have also been killed in the attack," she added.
Dana White said that the attack will significantly disrupt the terror group's plans to expand its presence in Afghanistan
U.S troops had already killed two previous ISIS leaders in Afghanistan
Pentagon announced the death of Abu Saeed, while it had vowed a few months ago that Abdul Hasib, Daesh leader was killed in an April operation.
However, U.S forces had killed Hafiz Saeed Khan, leader of Islamic State of Afghanistan in 2016.