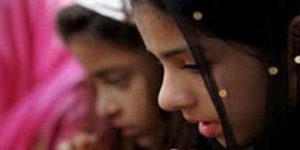 Marriages under legal age are bitter memoirs that girls experience in the city and villages of Afghanistan.
For decades, girls are hunted by unpleasant social traditions. Meanwhile, a number of women consider early marriage as the end of childhood privileges including education.
Poverty, unpleasant social traditions, distrust, insecurity, social cultures are said to be the main reasons for underage marriages.
The legal marriage age for girls in Afghanistan is set at 16, but the rise of the challenge has faced Afghan girls with many problems such as self-immolation as well as family and metal problems.
The law banning violence against women – about underage marriage – has specified 2 to 5 years imprisonment for those who force girls for an early marriage, but despite that, the victims of these events say, the practical aspect of these laws are not fulfilled in most areas of the country.
Parwana is one of those women who was under 12, at the time of her marriage.
Although 20 years have passed since her marriage, she says, the impacts of a difficult life after her marriage have affected her current life. "I was twelve when I got married. 20 years ago, when I was a newly bride, all responsibilities of my husband family fell on my shoulder, I did not know, what to do. I have experienced a lot of violence and illnesses, even I suffer a nervous disease." She added.
Shabnam, another woman who got married at an early age, considers her marriage as a barrier to her educational dreams, and says: "I got married when I was 13, in fifth grade of school. I was daydreaming that I will go to university, after I finish school, but I was not allowed to continue my education since the marriage and now I am an illiterate woman."
In relation to the underage marriage of girls and forced marriage, Rahima Zarifi, a civil activist in Afghanistan says: "adjusting the law, counter corruption, and public awareness are very important and effective to decrease underage marriage of girls in the country."
According to Ms. Zarifi, poverty, lack of education and awareness are counted as the main factors for underage marriage, which is carried out in the insecure region of the country and undermine the practical aspect of the law.
Younes Zaki, one of the sociologists in the country, says that aggression in social and family relations of these women are the bad consequences of the underage marriage that causes violence and isolation of their communication.
According to Mr. Zaki, underage marriages bring up aggressive and angry children that have negative social consequences.
However, Afghan girls in the city and provinces of the country face challenges of underage marriages, in this case, their lives are endangered and calling for an immediate reduction of the problem throughout the country.
Shamima Ahadi – (DID) press agency
Translated by: Taher Mojab