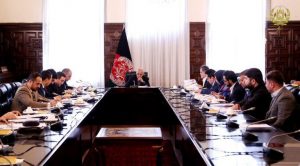 National Procurement Commission (NPC) chaired by president Ghani approved 10 contracts worth more than 3 billion Afghanis Monday.
According to Arg's statement, the contracts for the new projects worth around 3.6 billion Afghanis and were approved for implementation during the NPC meeting held in Arg palace.
The contracts approved during the meeting include procurement of 121 ambulances needed for public health and contruction of 175 meters bridge in Takhar's Taleqan city.
Other important contracts approved during the meeting include 500kv substation project of Arghandi-Kabul and purchasing 15 vehicles for cntral statistics department.
The head and members of NPC, national and International observers, and integrity watch Afghanistan attended the meeting.