This issue indicated that the nature of the Taliban's group was planned abroad and carried out the massacre with a specific program targeting Shia to undermine the spirit of national unity …
---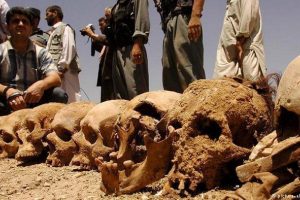 17 Asad (8 August), exactly 20 years since the Taliban entered the city of Mazar-e-Sharif in 17 Assad of 1377 (solar year); the day when the people of Mazar were massacred by the Taliban and the bloody holocaust took place.
Although two decades passed since the bloody incident, the wounds of mothers, fathers, brothers, women, children, and sisters who lost their beloved ones, is still fresh and mourn annually.
The exact numbers of people who were massacred by the Taliban during the first few days of the occupation of Mazar-e Sharif are not available, but the estimated figure from the optimistic to pessimistic status ranges from 160 to 10,000 people.
Although many years have passed, the consequences still touch our society in which the least outcome of that bloody massacre is division and pessimism among the ethnic groups which our country pays the price every day.
Entering into the city of Mazar-e Sharif, the Taliban group targeted Hazara and Shiite ethnic group with a special plan and created the holocaust by massacring these people.
Undoubtedly, if Taliban had internal nature, they would have recognized Shiite people in Kandahar, Helmand, and other regions and would not mercilessly kill them. This issue indicated that the nature of the Taliban's group was planned abroad and carried out the massacre with a specific program targeting Shia to undermine the spirit of national unity, peaceful coexistence, and breaking up a sectarian war between Sunni and Shiite people.
But now, the basic question is that how does the government pursue negotiations with Taliban group on social, political and cultural parameters that neither the blood of the martyrs nor the achievements of the Afghan people in the past 17 years are not dealt.
Today, the Afghan people have realized that no other type of governance model, other than democracy, national unity, and democratic elections, is not meeting the needs of their community. So, during the peace negotiations with this group, the government should move with regard to the victims, the terrible cultural and human crimes of this group, and the recent achievements of the Afghan people to prevent Taliban and Wahhabi thinking to take victims out of the people again.
Rasoul Hussaini – (DID) news agency
Translated by Zaher Mahjob