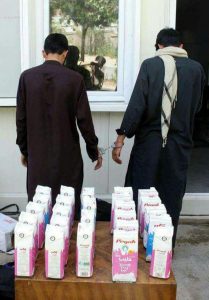 Counter narcotic police detect and seized 20 kg opium inside milk package at the northern gate of Kabul, deputy MoI's counter narcotic said.
According to a statement released by the deputy counter narcotic, this amount of opium was deftly embedded inside milk containers which were seized by (Kabul gate) police force.
"Police detained two persons in relation to the case and are under investigation," the statement said.
Deputy counter narcotic added that this amount of drugs were loaded from northern part of the country and were transferred to Kabul to be sold.