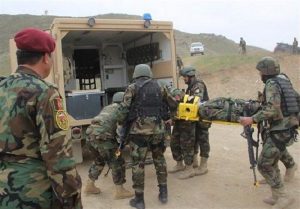 Armed oppositions attacked a police headquarter last night and shot dead soldiers stationed in Kunduz-Khanabad roadside post, as well as their equipment fell to the oppositions.
Local officials told DID news agency that armed oppositions shot dead 13 soldiers at the post and just one managed to escape the area.
"The attack on the headquarter started at 3:00 am (local time) and the soldiers resisted until 5:00 am, but the communication was cut around 6," Khanabad district governor Hayatullah Amiri said.
13 soldiers were shot dead and only one could escape from the area.
Officials at Kunduz province have not commented yet but reported the police chief of Kunduz province has gone toward the area.
Lack of assistance or not helping soldiers in conflicts are the main factors of the security forces casualties.