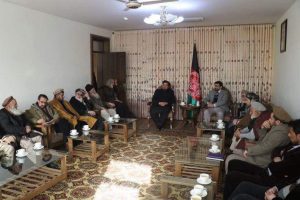 The delegation of high peace council (HPC) arrived in Badakhshan province Monday for consultations with the people on how to settle peace with the armed oppositions.
The delegation is scheduled to meet with local authorities, provincial council members and popular elders in the province to get their suggestions on how to deal with the peace process.
The six-member of the HPC delegation, chaired by Ata Rahman Salim went to the province to implement the advisory programs.
"The delegation discussed the purpose of the trip to Badakhshan province with Ahmad F. Begzad, the provincial governor; and they will visit scholars, Jihadi commanders, civil society institutions, and youths," the press office of the province told DID news agency.
The aim of this trip to Badakhshan, is to facilitate the peace process in the country.
The high peace council had previously sent its members to different provinces of the country, in order to explain its strategy and consolidating relations with various strata, including women, Ulema, and youths.