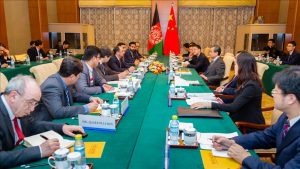 The Afghanistan-China-Pakistan trilateral meeting held Tuesday in Beijing and stressed on practical ways to provide peace in Afghanistan and to combat terrorism.
"China has a prominent role in providing stability in Afghanistan. This country can be an honest mediator in the fight against terrorism," said Afghan foreign minister Salahuddin Rabbani.
"Afghanistan needs a serious fight against insurgents and Afghan government is committed in the fight against terrorism," he added.
Mr Rabbai further said, Afghanistan alone cannot counter terrorism but regional cooperation and mobilizing all countries can destroy this phenomenon.
Meanwhile, the Pakistani foreign minister Khawaja M. Asif said at the meeting that his country can help Afghanistan in the fight against terrorism, and peace and stability in Afghanistan are necessary for the economic cooperation of the three countries.
"We expect the cooperation program between Afghanistan and Pakistan to work, and the agreement signed between the two countries is a promise of this issue," he added.
On the other hand, Chinese foreign minister Wang Yi said, China and Pakistan will look at extending their $57 billion (42.63 billion pounds) China-Pakistan Economic Corridor to Afghanistan.
"China and Pakistan are willing to look at with Afghanistan, on the basis of win-win, mutually beneficial principles, using an appropriate means to extend the China-Pakistan Economic Corridor to Afghanistan," he added.
This is not the first meeting held between Pakistan and Afghanistan through a third-country mediation, and such meetings have already been held by US.
It is worth mentioning that the Chinese government has initiated the meeting and aimed at improving the relations between Afghanistan and Pakistan.