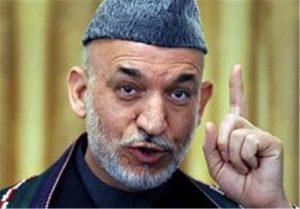 The former Afghan President Hamid Karzai has said Afghanistan will not recognize Durand Line as a formal border between Afghanistan and Pakistan as he reacted towards Pakistan's move to close the transit and travel routes between the two countries.
"The Govt of Pakistan has no legal authority to dictate terms on the Durand line. While we wish freedom for the people of FATA from FCR and other repressive measures, we warn the Govt of Pakistan that Afghanistan hasn't and will not recognize the Durand line." Karzai said in a Twitter post.
The closure of the routes by Pakistan has resulted into growing tensions between Kabul and Islamabad.
The Pakistani authorities decided to close the routes following a series of attacks last month which led to the death of scores of people while hundreds of others were wounded. Quoted from Media.
The attacks resulted into escalation of tensions between the officials of the two countries as the top diplomats were summoned both by Islamabad and Kabul regarding the presence of the alleged terrorist sanctuaries on the soils of the two countries.
The Afghan officials are saying that the leadership councils of both the Taliban and Haqqani terrorist network are based in key cities of Pakistan and in response to Islamabad's list handed over a list of 85 top Taliban and Haqqani terrorist networks leaders along with a list of their sanctuaries.