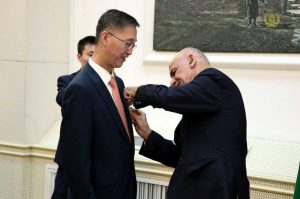 President Ghani appreciated the Chinese ambassador Mr. Yao Jing's efforts during a visit last night in ARG palace, by awarding the state medal of Allameh Sayed Jamaluddin.
During the visit, the president thanked Mr. Yao Jing for his efforts in attracting China's help and cooperation in Afghanistan.
Mentioning the geographical location of Afghanistan, Mr. Ghani said Afghanistan plays a key role as a bridge between the countries of the region and China can reach Central Asia through Wakhan.
On the other hand, Mr. Yao Jing also thanked president Ghani for his works and awards, saying that during my mission in Afghanistan, I found out that the efforts of Afghan governments specially president Ghani in bringing peace and stability is important and valuable.
He expressed his satisfaction on his mission in Afghanistan, adding that Afghanistan will always be remembered.