President Ghani laid a floral wreath at Azadi minaret (Independence Minaret) on Sunday 19 August, celebrating the Independence Day of Afghanistan.
---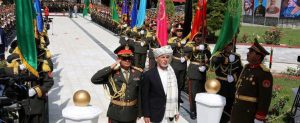 The ceremony was held at the headquarter of National Defence Ministry.
The leaders of NUG M. Ashraf Ghani and Dr. Abdullah Abdullah, former Afghan president Hamid Karzai and high-level government authorities attended the special ceremony.
99 years before now, the former king of Afghanistan Amanullah Khan achieved the independence from Britain in 1919.
People are celebrating this day throughout the country, especially in Jalalabad, the birthplace of Shah Amanullah Khan.
Yet, the government is celebrating the Independence Day in the country while there are criticisms about the spread of insecurity caused by the interference of foreign countries in Afghanistan.