The Afghan political expert Ahmad Sayeedi addressed to foreigners at the "National Consultative Discourse with Elites" held in Mazar-e Sharif that "the current administration did not go the way it should, and it will be a stigma in your relations with Afghanistan people."
---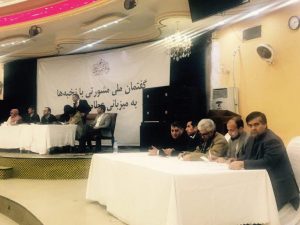 The Afghan political expert Ahmad Sayeedi addressed to foreigners at the "National Consultative Discourse with Elites" held in Mazar-e Sharif that "the current administration did not go the way it should, and it will be a stigma in your relations with Afghanistan people."
The "National Consultative Discourse with elites" was held in Mazar-e Sharif on Sunday with the initiative of Ata M. Noor.
At the meeting, Ahmad Sayeedi, a political expert addressed to foreigners: "the current administration has stained your dignity and popularity among the people of Afghanistan. It is better to stand by the Afghan people, instead of standing beside the corrupt government."
"The United States of America or Europe should not interfere in internal affairs of Afghanistan," he added.
On the other hand, some other intellectuals and civil activists said: the government should not monopolize; because ARG's monopolism has brokered the current crisis in the country.
The Consultative meeting discussed ways to solve ARG's monopolism, the expansion of "Etelaf-e Nejat" throughout Afghanistan and the formation of a major political coalition in Afghanistan.