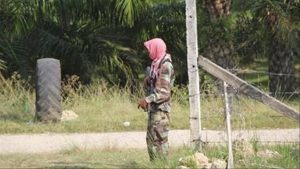 Malaysian terrorist bomb maker Amin Baco, alias Jihad, is the new "emir" of Daesh in Southeast Asia, Pilipino police chief Director General Ronald Dela Rosa said Monday.
"He assumed the position of Isnilon Hapilon as the emir of ISIS-Southeast Asia," local media quoted Dela Rosa as saying during the presentation to the media of Indonesian terrorist Muhammad Ilham Syahputra at Camp Crame in the capital Manila.
According to Anatoly news agency, Syahputra, who was arrested while trying to escape Marawi last week, said Baco was elected by Daesh members following the death of Hapilon.
Syahputra admitted he arrived in the Philippines November last year upon the invitation of Hapilon. He also said he fought alongside the Maute terror group and revealed that around 39 militants are still inside the battle zone.
Baco, described as an expert in making bombs, is wanted by both the US and Philippine governments for kidnapping and bombing charges.