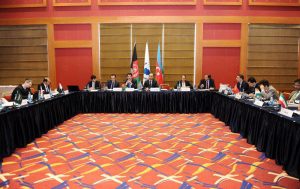 On Friday, Central Asia countries held its annual conference in Baku, capital of republic Azerbaijan to help Afghanistan.
According to (DID) news agency report, there was effective dialogue about country's political and security status at the meeting and inspected strategies to help solve the problems of Afghanistan.
Countries in the Istanbul process declared their readiness to participate in Afghanistan peace process.
One of the core topic of the meeting was economic issues that participating countries discussed about Chabahar port and its connection with Afghanistan and Central Asia.
The scheme of connecting Central Asia and Afghanistan to the sea through Chabahar port was backed by member states, specially India that has invested on this port.
Annual conference of Central Asia – Istanbul process, begun with the presence of 14 Asian countries since 2011 and the aim is to use regional capacities to help Afghanistan and developing entire Central Asia region.