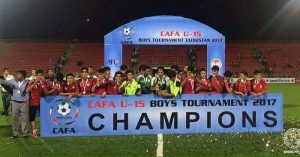 Afghanistan's national youth football team became a champion of the first center of Asia competitions in the final match against Uzbekistan and Turkmenistan's defeat against Tajikistan.
Afghanistan won the title by gaining 9 points out of 4 games by defeating Uzbekistan.
Turkmenistan stalled Tajikistan 3-1.
Afghanistan defeated 3-2 Uzbekistan in this difficult fight and became equal with this team in 9 points.
Samir Samandari, at the 6th minute, Tamim Mirzada at the 63rd minute, and sayed Asghar Hussaini at the 80th minute were the three scorers of Afghanistan's national football team under 15 in this match.
In the last match of the tournament, the Tajik team defeated Turkmenistan 3-2. And Afghanistan became the champion of this tournament.
Afghanistan won 3 victories against Tajikistan, Kyrgyzstan, and Uzbekistan in four regular matches held in Turkmenistan, with only one defeat against Turkmenistan.
Afghanistan, Tajikistan, Kyrgyzstan, Turkmenistan, and Uzbekistan participated in the first AFC Under-15 football competition.
It should be noted that the Iranian national youth football team resigned attending the competition.
This tournament was held as a league that eventually ended with the championship of the Afghan national youth football team.