No matter that Mujahidin do not know the theory of urbanization and state-building. This is important that they are familiar with principles of friendship, bravery, and traditional knowledge like Balkh governor.
---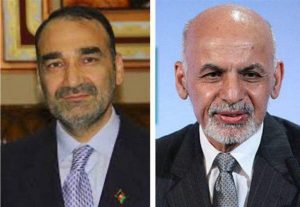 Apparently after a period of totalitarian by technocrats in Afghan policy, again, all ways lead to Mujahidin. Mr. Karzai and foreigners' attempts and then Mr. Ghani's rigors, all could not marginalize Mujahidin. The nostalgia of the kingdom and the left governments also could not win over the dominant hegemony of Mujahidin. Hekmatyar returned to Kabul like an emperor while all domestic and foreign media outlets were writing of him with hatred. This was the first major defeat of president Ghani that kneeled in front of a bad Jihadi face, unlike his will. But that was not all.
The president once called Amir Ismael Khan as a thief who is not worth visiting, but later, sent his son to London as a senior diplomat with no norms; a diplomat who does not even speak English, but now, he gradually become an intelligent politician. He surrendered to Ustad Mohaqiq and Ustad Khalili either.
In spite of his litigation against Haji Nabi Khalili – Karim Khalili's brother – get along with him and finally, despite of threatening Ata M. Noor to wrap up his various campaigns with elders, visited him like a dear guest, urging him to keep his post in front of the people and media.
However, unlike president Ghani, Mr. Noor could gather the elite youths from inside and outside the country around him, attracting southern military myth that says, in desert, mountain or city, we are with Mr. Noor; the one who did not even wanted to visit the president since he took office.
Similarly, from Kunar to Badakhshan and Faryab, this is he who has more powerful press, stronger allies and supporters than the president. Competent young people who could not find a place at the government due to corrupt extremist relations and jealous circle of the president, now all stand by the Balkh governor. His TV has far more viewers than the state TV, and newspapers, News agencies close to him [Mr. Noor] are more modern and professional than the old newspapers and news agencies of the government.
The president could not even reform the government media which are the face of the government due to his false view and his lack of management.
The media, are the tongue and face of any movement, organization and government that one can identify the character and thought of its leaders. For example, Misaq-e Khoon press organ of Mr. Hekmatyar; points out his character and current movement.
The state newspapers and TVs also shows the will of government's leaders; a television which does not have any viewers and its programs are old and boring while having all equipment. The historical Anis daily newspaper is the corpse of a newspaper and Bakhtar news agency has become chaff of the government's employees, now compare it with Mitra TV and other media outlets close to Balkh governor which are full of freshness and excitement. This story can be continued by comparing Kabul, the capital city and Mazar-e Sharif where Mr. Noor is the governor. Mazar (Balkh) is a clean and modern city under the management of Balkh governor but Kabul, a city dominated by Commanders and forceful people, full of irregularities and Pakistani placards. Pakistan and its enthusiasms has influenced the spirit of the capital city.
The issue is not about the president's intention, but comparing the manner and tact of the president and Mr. Noor, points out two different views.
However, why should we consider Mr. Ghani as the representative of Modernity and Mujahidin as the representative of fundamentalism?
The appearance of the issue shows contrary to this claim, and think what happens, if the whole country is adorned with Balkh governor's taste?!
An incapable person will not be the head of an important national media for the sake of ethnic belongings. For the sake of ethnic belonging, no one will be responsible for reviving moral and cultural virtue of the community while being in competent and no incompetent person will be the chief of the country's higher education due to ethnic belongings, having a fake university degree, and the soul of gnosis will be expelled from worn-out cities.
No matter that Mujahidin do not know the theory of urbanization and state-building. This is important that they are familiar with principles of friendship, bravery, and traditional knowledge like Balkh governor. They enthusiastically work with youths and enjoy every single piece of advancement in the country. With this introduction, why all ways should not lead from the president to Balkh governor, his friends and companions.
Sayed Reza Mohammadi – (DID) press agency
Translated by Taher Mojab