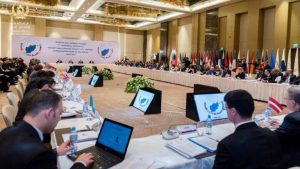 Afghanistan and Azerbaijan inked five cooperation agreement in different fields.
According to DID news agency report, the agreements include security, economy, educational issues, mutual investment and air services.
The Afghan minister of finance Eklil Hakimi signed economic cooperation agreement to promote and support mutual investment with his Azerbaijani counterpart.
On the other hand, the acting minister of foreign affairs Salahuddin Rabbani signed security, educational and air services with his Azerbaijani counterpart.
Azerbaijan is keen to have more presence and cooperation with the government of Afghanistan.