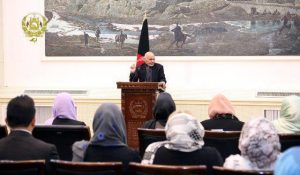 President Ghani stressed on removal of barriers against women's progress, in a visit with the members of Afghanistan's women network.
According to (DID) news agency report, Muhammad Ashraf Ghani, country's president visited with members of Afghanistan's women network in the presidential palace, on Wednesday evening (March 1st) and said that women's immersive growth has been considered in all national programs.
He besides emphasizing on basic steps towards the elimination of violence against women, added that changing unacceptable culture is important in this respect, because violence starts from the family and end in the family.
"The government has strong intention holding parliamentary and district council election, and women's participations in these elections is vital." He added,
"In the field of women's rights, difficult route, but effective was trodden, barriers that are on the way of women's progress must be eliminated." He noted.