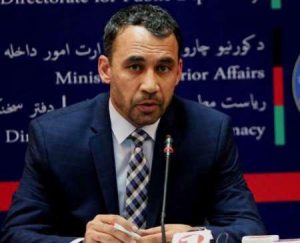 Ministry of interior affairs vowed that Taliban is the enemy of Afghanistan, they are reluctant to peace and must be destroyed.
According to (DID) news agency report, deputy of interior ministry spokesman, Najib Danish in an interview with (Radio Azadi) said, Taliban militants fighting Afghan security and defense forces and have no desire for peace, so the security forces will deal with them by all means possible.
The statements are expressed by the country's ministry of interior affairs in response to recent remarks of the UN representative for Afghanistan.
Tadamichi Yamamoto, UN envoy for Afghanistan, had recently said at a meeting of the UN Security Council in New York that the government of Afghanistan, neighboring countries and all aspects of the conflicts must have the message that Taliban should be part of Afghanistan's future.
These statements followed reaction of the executive directorate, too. Deputy of the country's executive directorate, Jawid Faisal said that Taliban is Not a part of the country's future, because, instead of participating to build Afghanistan's future, destroy it.
President Ghani had also said in at the beginning of the parliament's seventh working year that those who do not want the peace process and continue the war, are the enemy of the country and must be suppressed.