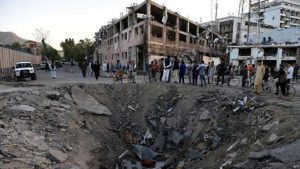 Sarajuddin Haqqani, deputy to Haqqani network denied involvement in Wednesday attack in "Zanbaq square" area, by publishing a video message.
He said that the network not only involved in the attack, but not in any of the recent events in Afghanistan and condemns these assaults.
"We fight against the U.S forces not with the people of Afghanistan," he added.
Haqqani also said that only civilians have suffered in the recent events and targeting civilian facilities are contrary to Islamic laws.
It should be noted that the video message was released on Zabihullah Mujahid's twitter.
Taliban had also rejected Wednesday attack before too.
In Wednesday's suicide attack in Kabul, at least 150 people were killed and more than 500 people were injured; the attack was conducted by a truck carrying 1500 kg explosives, and is one of the deadliest assault in the past 16 years in Afghanistan.