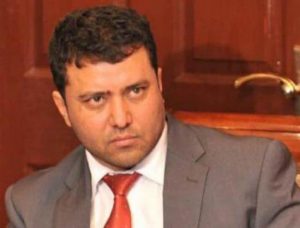 Some colluded against General Dostum and made blank papers a case against him, head of first V.P office Babur Farahmand said.
According to DID news agency report, head of General Dostum's office Babur Farahmand charged some people on general Dostum's case at the "Afghan lawyers' consensus" summit, adding that they have mediated and plotted against Dostum.
Mr. Farahmand mentioned the legal dispute of Ahmad Ishchi against general Dostum, and said: "ARG forced a large number of ambassadors in Kabul to take a stance against Dostum's case and to defame him."
He noted the background of the opposition between the president and those around him with general Dostum, and added: "the first V.P has offered his security plan to the presidential palace several times, but was not accepted."
Mr. Farahmand also talked about the ambush incident on General Dostum's military convoy in Ghormach district of Faryab province that before the incident, head of national security Masoom Stanekzai had been tasked by the president to urge general Dostum to travel to Faryab province and save the soldiers who were surrounded by the Taliban.
He continued: "when General Dostum went to Faryab province, national security directorate did not take any security plan and as a result, General Dostum was targeted by armed opposition and killing 56 members of his convoy were killed and 105 others wounded.
"Security forces have been tasked to prevent General Dostum, entering the country without a competent authority issue a verdict against him," head of first V.P office said.
At the end, Mr. Farahmand called on lawyers of the country to seriously and impartially review the legal status of VPs in the constitution.