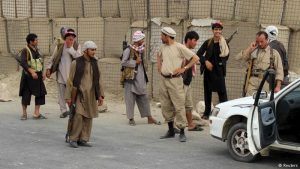 Clashes between Taliban and security forces around Kunduz city entered its third consecutive day, according to provincial officials.
The Taliban fighters managed to seize a strategic security checkpoint yesterday (4 July) and residents of the city are once again escaping from the city, Safiullah Amiri, a member of the Kunduz Provincial Council, told (DID) News Agency.
"At least 23 buses full of passengers left Kunduz to Kabul yesterday due to clashes," he added.
It should be noted that the city of Kunduz was temporarily seized by the Taliban in September 2015, and part of the city was taken over by the Taliban in October last year.