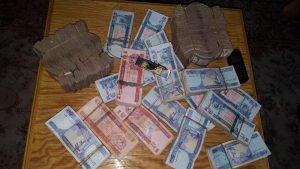 Herat police command forces prevented a robbery of more than one million Afghanis in the province.
Armed robbers had stolen one million and one hundred Afghanis, which were caught by security forces in "Mukhaberat" road of Herat city. Abdul Ahad Walizada, a spokesman for Herat police command told (DID) news agency.
"Armed robbers were arrested with the robbed money by police forces while fleeing from the place, riding a Corolla vehicle," he added.
Stolen money has been returned to its owner, according to Walizada.
However, armed robberies statistics have gone up in Herat province lately.