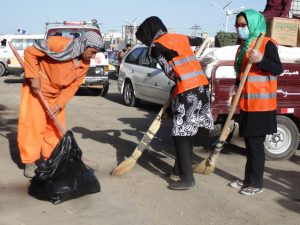 Today Morning, a number of women in Herat province started cleaning their city.
According to (DID) news agency report, these women by taking brooms, trash bags and wearing municipality uniform began to clean up the city, and said, "The aim of launching the program is to demonstrate the ability of women in various fields.
"More attention should be paid to city cleanliness," these women stressed.
In order to have a clean and tidy city, the full cooperation of the people is required for the municipal administration, according to the ladies.
Herati women cleaned up the roads from Darb Malek street up to the crossroads of the city department in this program.
It is noteworthy that Herat province witnesses such program for the first time by women.