one who less think about the people's goodness, more likely commit corruption, and steal from the pockets of the people every day, are weirdly applauded.
---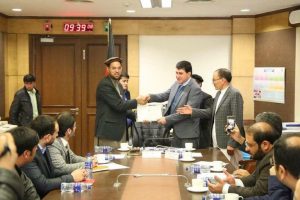 These days, donating citation in Afghanistan is warm. Official and unofficial news about appreciation of individuals by governmental political, cultural, educational institutions and non-governmental organizations heard every day. Apparently, most of the citations are given to individuals due to their positive and productive works. Some of this citation are ordered and again granted to individuals by an organization among a gathering. Some call them "ordered citation."
Appreciation letter is a paper with glass or metal frame, having a manuscript of all praise and encouragement signed by the officials of the relevant department.
Sometimes, these appreciation letters are donated to a number of politicians by people and institutions … for their services.
But are some agents of various bodies in Afghanistan, legal and real characters of this territory and politicians of the government truly deserve admiration? What All of these people who are applauded among the crowds; have done for this nation? Are Afghan leaders have really developed this country politically, culturally, and socially to the extent that deserves such weird citation?
It seems the rights have been trampled. One who works more, avoid deceit and showing off themselves, and does not want to ruthlessly witness appreciation paper and awards. Instead, one who less think about the people's goodness, more likely commit corruption, and steal from the pockets of the people every day, are weirdly applauded.
Afghanistan is the territory of citation, but I don't know how such a person deserves to be praised in a country where every day war, suicide, insecurity, corruption, distrust, and dozens of inhuman factors are highly noticed in every corner. What have they done that expect encouragement? In a country where the basic necessities of the citizens are not yet provided, granting "citation" is deception of the people and creating opportunities for bigger corrupted programs!
On the other hand, these citations are invaluable and ill-fated. Today, appreciation letter may be printed equivalent to the number of people living in Afghanistan. But these citations have not had tangible consequences.
A bunch of paper sheets that have been handed over to people.
Getting real appreciation is gaining the hearts of people with honest service, creating political, cultural, security and economic strategies to save people from the adversities, and its logical and correct implementation by competent people without any corruption, ethnocentrism, and regionalism, is also a ground for gaining the heart of the community.
Those who order appreciation letter and pay in return, not only intends to deceit the people but also harms their personal confidence and beliefs.
Afghanistan becomes prosperous when the truth becomes clear and grant valuable and destiny-making citation to those who are the real servant of the homeland.
Sayed Abdul Basir Mesbah – (DID) press agency – Tehran
Translated by Taher Mojab