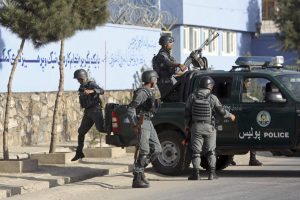 A large cache of explosives and ammunitions belonging to Daesh terror group was seized in PD5 area of Kabul by Afghan security forces on Tuesday.
According to a security source, the place detected in Qalai Wahid neighborhood in the 5th Police District of Kabul city. The source added that it was used in many terroristic attacks in Kabul.
Daesh terror group has carried out many terrorist assault in capital Kabul and other cities of Afghanistan.
The latest one claimed the lives of 11 Afghan soldiers which was conducted by 5 ISIL fighters on Monday as the attackers stormed an academy military base.
According security sources, one of the attackers was arrested by the security forces.