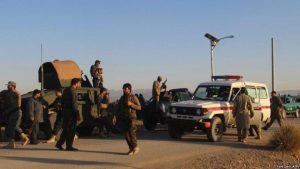 The Islamic State (ISIS) terror group has claimed responsibility for a suicide bombing at a crowded mosque inside an army base in Khost Province.
Dozens were killed or wounded during the terror attack on a military unit mosque in Khost province during Friday prayer.
Official sources confirmed that 12 killed and 33 more were wounded, however, some sources put the death toll at 27, citing Afghan officials who said more than 50 others wounded in the incident.
In a statement issued on its Amaq website, the ISIS group claimed that an ISIS suicide bomber infiltrated the military base and got inside the mosque to detonate his explosives, killing "around 50" Afghan soldiers who were praying and wounding 110 others.
Afghan President Ashraf Ghani condemned the attack as "anti-Islamic and inhumane."