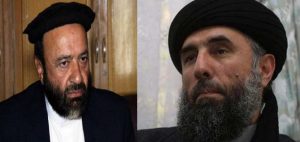 Yesterday, (Thursday, March 28th), a senior official of Hezb-e-Islami led by Gulbuddin Hekmatyar in Kabul, called the claim of various branches of the party irrational and stressed that such claims and propagandas are planned by rivals.
But, Afghanistan's Ministry of justice says that Abdul Hadi Arghandiwal's Islamic party is officially registered in the ministry, while an official representative of the party says that Hekmatyar's Islamic party has fifty years fame and does not require technical issues.
After the agreement between Gulbuddin Hekmatyar and the government, now the disputes about the leadership of the party have gone up. Quoted from (Tolo news).
Islamic party led by Abdull Hadi Arghandiwal is registered in the ministry of justice, the party was registered 12 years ago and has political activities.
But Gulbuddin Hekmatyar's Islamic party, which has more military activities, considers Gulbuddin Hekmatyar as the only leader of the Hezb-e-Islami.
"Islamic party is known with fifty-year history, Hezb-e-Islami does not need technical issues, and I can assure you that it is a single party, with one leadership, led by Amir Hekmatyar." Amin Karim, official representative of Hezb-e-Islami said.
Now the differences about the name of the party have leaked between the two branches, while only one Islamic party is registered in the ministry of justice.
"The Islamic party is officially registered in ministry of justice and has activity license. The party was recorded once in 1384 (2005), with presidency of Abdul Hadi Arghandiwal, and it is registered again, by having ten thousands members." Abdulbasr Anwar, justice minister said.
Although, national unity government signed a peace agreement with Hekmatyar's Islamic party, as a political party, Abdul Hadi Arghandiwal says that he will consent with Mr. Hekmatyar about this.
"When Mr. Hekmatyar had come, we have got problems within the party, domestic and foreign affairs, God willing, we will reach an agreement." Abdul Hadi Arghandiwal, chairman of Islamic party said.
The government signed the peace agreement with Gulbuddin Hekmatyar's Islamic party about 6 months ago, after that created 8 committees to execute the peace agreement with Hekmatyar, but the agreement has not been implemented so far.