According to Afghanistan National Directorate of Security (NDS), the Afghan Special Forces have arrested 5 terrorists.
---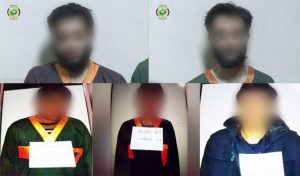 The detainees had intended to carry out a wave of terror attacks in Baghlan and Balkh provinces, NDS said in a statement.
The statement further said, these five terrorists had gathered in "Dahan-e Ghori" area several times to organize the terrorist attacks.
According to the statement, three of the five terrorists were detained in Baghlan province and 2 others in capital Kabul.
This comes as recent terrorist attacks in Afghanistan claimed the lives of more than hundred people.