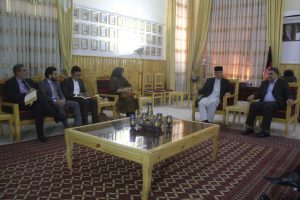 An authentic Indonesian airline is set to launch direct flights between Herat and Jakarta.
The Indonesian ambassador to Afghanistan who had traveled to Herat province and met with the acting head of Herat, Mohammad Juma Adil said: "his country is ready to provide the necessary facilities for issuing visas to merchants in Herat province."
"Soon an international exhibition will be held in Jakarta, the capital of Indonesia and the Herat merchants are also invited to participate in this exhibition," the Indonesian ambassador said.
The Indonesian ambassador invited Herat governor to travel to Jakarta in an appropriate time.
Meanwhile, general Adil reminded the prepared facilities in Herat airport for international flights and added that the direct link between Herat and Jakarta trough air is important in strengthening relations.
Herat-Jakarta direct flights are conducted to transfer goods and products of the two countries and this could have positive consequences in increasing trade.